Sand Supplier
Duke Transport is the Leading Sand Supplier in Bucks and Montgomery County
Duke Transport is the leading sand supplier to residential and commercial properties in Bucks County, Montgomery, PA, and many other areas. We have sand that fits your individual needs, whether it is for volleyball courts or patio foundations. Our product is elite because it does not stain clothes and works well in numerous landscaping projects. We have both bar/mason sand and concrete sand. Some of our other products include bulk salt for roadways and crushed stone for landscaping.
At Duke Transport, we have years of experience in the landscape supply industry and will provide all of our customers with top-quality products. We try to remain environmentally-conscious when choosing our supplies, which is why many of our products come from natural recycled materials.
We try to ensure that all our deliveries are on schedule. If for any reason we are going to be late we will call to inform you – we're a sand supplier that respects your time and knows that you have a busy schedule. We believe that any of our products will greatly improve all your outdoor projects and make them eye-catching.
Below are some descriptions of the types of sand we offer at Duke Transport: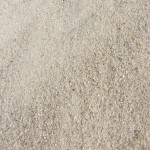 Bar/Mason Sand
We selected our quality sands for their performance. Bar/mason sand is a washed, yellow-beige color, crushed more finely than concrete sand and often used in masonry. It can be used for projects like above-ground swimming pool foundations, septic drainage systems, children's playgrounds, or mounded to form retention bases. When blended into garden soil, it will ensure looser soil for better root growth, easier soil tiling, and improved water infiltration. Bar/mason sand also aids in lowering soil acidity. For your inspected projects, full product analysis reports are available.
Concrete Sand
Concrete sand is the same as bar/mason sand, with slightly coarser small round pebbles. This sand is better suited for concrete blending, and can also be used as pipe sand or as a base layer for patios and walkways.Due to the pH differences between stone and sand, we highly recommend a sand bed instead of finely crushed stone. Many leading paver block manufacturers also strongly recommend a concrete sand pad for a couple of reasons:
Neutral pH levels (blocks won't degrade). Stones have a higher pH than sand which accelerates the paver block degradation.

Sand allows the water to flow more effectively through the patio which helps to avoid frost heaving and puddling.
If you have any further questions about bar/mason sand, concrete sand, or our other products like bulk salt, crushed stone, and round river stones, browse our website. To schedule a delivery of one or more of our products, call us at your earliest convenience. We deliver in bulk quantities, so be sure you can accommodate a large shipment.
We take pride in being a top-quality sand supplier that offers our customers in Bucks County, Montgomery County, PA, and other surrounding areas with the best and safest products around.